We are an independent Slovenian company, that deals directly with all suppliers.
Because we operate without any intermediaries, we can offer our products at reasonable prices. We provide excellent hearing services, high – quality hearing aids UNITRON (Canada), SONIC (USA) and much more..
AUDIO BM hearing centers, an EXCELENT CHOICE for hearing aids and other services for better hearing and better life, available all in one place. We encourage you to read and explore the rich content of our website, where you will certainly find something interesting. If you need more information, we are happy to be at your service!
We look forward to your visit, we'll commit to your personal goals!
We are well aware that our work can impact your life in the future and that is why we try our best with providing an excellent service and offering the latest hearing aid technology, including the basic hearing aid models, which are within the ENT referral price range (without surcharges).
We are moving milestones in the field of providing quality, affordable hearing aids and other hearing solutions.
High quality batteries are crucial for good hearing aid and cochlear implant performance. We offer hearing aid and cochlear implant batteries made by German manufacturers PowerOne and Duracell (Varta group) and also, England's finest, Rayovac batteries.
Cleaning and taking care of your hearing aids is very important and also very simple, since we offer a variety of cleaning and care products made by a French manufacturer MG Développment.
We offer a wide range of diverse EAR SAFE hearing protection and safety products. To avoid hearing loss in the first place, we recommend using custom made hearing protection earplugs. AUDIO BM is a certified manufacturer of DREVE hearing protection that conforms to the highest standards. Our custom hearing protection products are made using the latest 3D scaning technology.
Custom made VODA X soft earplugs and EAR BAND-IT headbands provide great protection and will stop water from entering your ear canal. We also offer immediately available hearing protection made by Dutch manufacturer Alpine, which includes high quality soft earplugs that will protect your hearing against noise or water. They include special filters that suit specific situations (protection from noise at a workshop, concert…). Special Alpine earplugs are also available for children.
We have to point out our affordable hearing solutions in each and every AUDIO BM hearing center. You can take a free hearing assessment or try using our hearing aids free of charge. We offer Unitron Flex:Trial trial period hearing aids that you can take home and try in different situations (unique in Slovenia). Our individual personal counseling will assure you will be able to choose the most appropriate hearing aid that will fulfil your hearing needs and meet your expectations.
Don't miss out on our offer at AUDIO BM web store >>
At AUDIO BM we blend our youth with tradition of the world known manufacturers. We are a certified distributor and service of hearing aids, which are a part of Sonova group (Canada/Swiss) and William Demant Holding (USA/Denmark).
At AUDIO BM we blend our youth with tradition of the world known manufacturers. We are a certified distributor and service of hearing aids, which are a part of Sonova group (Canada/Swiss) and William Demant Holding (USA/Denmark).
People are always the main focus of our work. That goes for our customers – hearing aid users, coworkers and also our business partners. Because we want to keep our focus, we are extremely devoted to continuous professional, as well as personal growth and development.
1. TIME, PROFESSIONALISM, ACCESSIBILITY
We take our time in giving you an expert advice and consultation at our modern and accessible hearing centers.
2. FREE HEARING AID TRIAL

You can try out our hearing aids at all technology levels in your home and free of charge.
3. EXCELLENT AFFORDABLE OFFER OF HEARING AIDS
UNITRON Canadian/Swiss quality hearing aids. More than 50 years of tradition!
SONIC (USA/Swiss) high quality hearing aids, which you shouldn't overlook.
All this at very affordable prices (also without surcharges). More about our extensive and affordable hearing aid offer >>
4. FREE HEARING TEST

Free informative hearing test. Simple, accurate and fast.
5. EXCELLENT SERVICE
We offer free of charge replacement hearing aids during the repair of yours. We provide 2 year manufacturer warranty and 1 year warranty on repairs.
6. HEARING PROTECTION
We manufacture custom earmolds for hearing aids and other hearing protection products against noise and unwanted water penetration in the ear canal, which are of highest quality and very comfortable. Our noise protection products have a certificate of conformity for professional use. We make use of the state-of-the-art computer procedures, including a 3D scanner.
7. HIGH QUALITY FOR AFFORDABLE PRICE
Highest quality at an affordable price, because we conduct business with all our suppliers from Switzerland, Germany, France, Denmark, Sweden, Spain and USA directly and without any intermediaries.
8. MODERN SOFTWARE AND EQUIPMENT
We use the latest software for fitting our hearing aids and assessing their performance. We make use of free field voice testing and other various sound simulations (speech, music, noise…).
9. A LARGE OFFER OF TECHNICAL ACCESSORIES
Numerous technical accessories for the hearing impaired and deaf, which are available via the equalisation of opportunities for persons with disabilities act (ZIMI) along with other accessories for the hearing aid users.
10. BATTERIES, CARE PRODUCTS, ONLINE SHOP, SPECIAL OFFERS
High quality batteries, care and maintenance products at affordable prices. We do not charge any additional fees for online shopping. Payment possible up to 24 instalments.
Besides, there are many reasons for you to visit us. In that way you can reassure yourself about the quality and accessibility of our products and services.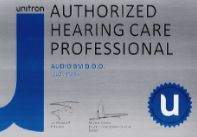 Authorised supplier of UNITRON and SONIC
Authorised supplier and service of UNITRON and SONIC hearing aids in Slovenia.
AUDIO BM employs professional hearing healthcare specialists who are enthusiastic, compassionate and ready to help. We believe in the proverb "knowledge is power" and that is why we are committed to continuous learning and keeping up with latest developments in the hearing aid industry. We will provide expert advice and assistance on your way to your better hearing.
Our main goal is to provide high quality hearing aids and other hearing solutions in Slovenia. We are committed to help the hearing impaired to be able to communicate and enjoy the colourful world of sounds around them.
With our professional approach, quality hearing aids and services, along with a competitive offer (best value for the money), we quickly became a trustworthy hearing aid distributor.
Vision:
Helping reduce stigma and improve quality of life
Offering highest possible quality at the most affordable price
Strategy:
Introducing innovations
Investing in new technologies
Training and education of employees and professional public
Our principles:
Customer satisfaction is our main focus
We are kind, respectful, honest and professional towards our customers
We offer best value for the money
Our customers are provided with trustworthy quality products – Unitron hearing aids originate from Canada/Switzerland, Sonic hearing aids from USA/Switzerland, we also provide German manufactured hearing aid batteries, French care and maintenance products and FM system from Sweden, Great Britain, Denmark, USA…
Education and improvement of our work processes is our constant
Consistent adherence to company laws and internal guidelines
We respect and encourage each other
We are persistent and reliable
We encourage a regular, direct and constructive communication between our colleagues
Each employee is intensively and professionaly trained
We support and encourage our employees in their professional and personal development
We make sure our customers questions, wishes, initiatives and complaints are resolved quickly and favourably
We accept customers in our clean and tidy hearing centers
Customers can relax and keep their privacy during their consultations
Safety of confidential personal information is very important to us. We only use them for the purposes we collect them for.
We are committed to helping you to understand and hear clearly again.
We share common goals and will do our best to satisfy your expectations.
AUDIO BM is a synonym for a comprehensive, quality based, affordable offer. >>
I am very happy with my Moxi Kiss hearing aids and that is mostly because I can actively participate in group conversations amongst friends and in the theatre. I recommend it to anyone who has trouble hearing. The employees are very kind and professional. In short, I am very pleased. A.R.F.
I decided to buy my hearing aids in one of your hearing centers. I would like to thank the kind gentleman who introduced me to various types of hearing aids. I have to emphasize his precise and useful explanation. I had visited several hearing centers, but none of them tried as hard to help as this gentleman. I am really grateful to him for finally getting know how everything functions. M.D.
Do you need help writing professionals articles in the field of hearing impaired and hearing solutions?
Are you interested in hearing solution presentations?
Do you want to collaborate with us?
• Contact: Franci Urankar
• e-mail: f.urankar@audiobm.si
• cell phone: 00386 (0) 51 722 722.
Answers to frequently asked questions are located under "FAQ" menu.
AUDIO BM – Authorised supplier and service of UNITRON and SONIC hearing aids in Slovenia.
Company name: AUDIO BM d.o.o., hearing aids, medical equipment and services
Short company name: AUDIO BM d.o.o.
Headquarters: Letališka cesta 5, 1000 Ljubljana
Telephone: 059 044 055
Email: info@audiobm.si
Website: www.audiobm.si
CEO: f.urankar@audiobm.si, cell phone: 00386 (0) 51 722 722
Bank Account: IBAN SI56 2900 0005 1138 257 (UNICREDIT BANK SLOVENIA d.d.), SWIFT/BIC: BACXSI22
Main activity: G47.740 – Retail of medical and orthopaedic products via specialized stores
Business tax number: SI51106663
Registration number: 6509347000
Ljubljana BTC 1000, Letališka cesta 5
Ljubljana VIČ 1000, Tbilisijska ulica 59
Maribor 2000, Trg revolucije 6
Celje 3000, Ljubljanska cesta 5B
Novo mesto 8000, Ljubljanska cesta 22
Trbovlje 1420, Rudarska cesta 2A
Brežice 8250, Kajuhova ulica 1
Koper 6000, Pristaniška ulica 3
Kranj 4000, Likozarjeva ulica 1
Jesenice 4270, Spodnji Plavž 5
Murska Sobota 9000, Lendavska ulica 20
Šempeter pri Gorici 5290, Trg Ivana Roba 6
Velenje 3320, Cankarjeva cesta 1A
Quick contat list:
059 044 055, 059 044 970 – Ljubljana, BTC
059 044 971 – Ljubljana, Vič
059 044 056 – Maribor
059 044 053 – Celje
059 044 057 – Trbovlje
059 044 058 – Novo mesto
059 044 059 – Brežice
059 044 054 – Koper
059 044 954 – Kranj
059 044 978 – Jesenice
059 044 979 – Murska Sobota
059 044 977 – Šempeter pri Gorici
059 044 973 – Velenje
051 722 722 – Franci Urankar, CEO
Let us help you on your way to better hearing. We will do our best!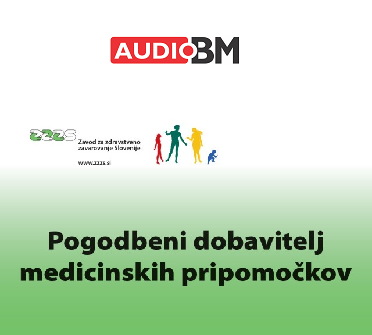 AUDIO BM hearing centers are contract retailers for Health Insurance Institute of Slovenia ZZZS.
We accept hearing aid referrals from all ENT clinics.  Choosing a hearing aid supplier is your FREE choice. Before buying a hearing aid, get to know and try out one of ours.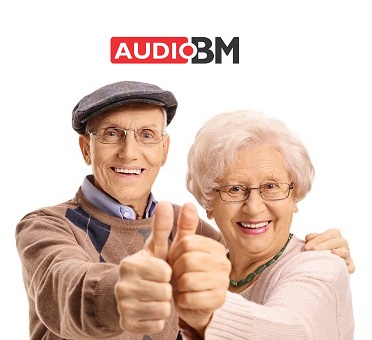 Many customers confirm our commitment to providing help so you can again hear and live better.
At AUDIO BM we work professionally and with our heart. We provide excellent service and the latest hearing aid models to meet all your needs and suit all generations - even at no extra cost.
WE REPRESENT WELL KNOWN AND RELIABLE TRADEMARKS