Natančno preverjanje stanja sluha.

Prva koraka do boljšega sluha sta priznanje težav in natančna ugotovitev stanja sluha.

Z avdiometrom in v odličnih pogojih (tiha kabina, ki je izolirana pred okoliškimi zvoki), slušni akustik povsem brezplačno opravi natančen informativni test sluha. Pred pričetkom testiranja bo preveril stanje v sluhovodih in natančno pojasnil postopek.

Pri testiranju sluha vam bo slušni akustik nadel slušalke, vi pa boste pritisnili na gumb ob vsakem zvoku, ki ga boste slišali. Ušesi bomo testirali ločeno. Ta test nam bo omogočil izdelavo grafa imenovanega pražni tonski avdiogram (krajše: ADG), ki prikazuje podrobnosti o vrsti in stopnji izgube sluha.
Pražni tonski avdiogram bo pokazal kako dobro slišite različne frekvence pri različnih nivojih glasnosti (merjeno v decibelih). Okvirno bomo opredelili vašo izgubo sluha in vam pomagali pri izbiri najboljše rešitve za vaš sluh. V primeru naglušnosti in želji po pridobitvi slušnega aparata boste obiskali tudi vašega specialista ORL.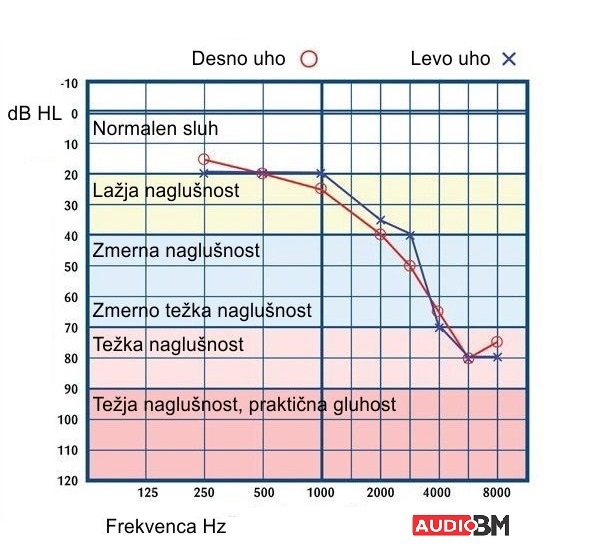 zdi se vam, da ljudje govorijo nejasno in mrmljajo
sogovornika večkrat prosite, da ponovi povedano
težko sledite pogovoru, če je v ozadju prisoten hrup
težko razumete pogovor v skupini
težje slišite otroške ali ženske glasove
slišite govor, ampak ga težko razumete
opozarjajo vas, da TV ali radio naravnate na višjo glasnost
preslišite zvoke visokih frekvenc, kot so na primer: ptice, črički, zvonec
družina, sodelavci in prijatelji vam predlagajo testiranje sluha
v ušesih pogosto slišite piskanje ali druge moteče zvoke
Če opažate znake, ki kažejo na morebitno naglušnost, ne oklevajte in preverite svoj sluh.
POMEMBNO
Test sluha v slušnem centru je informativne narave, ne diagnostične. Pred pridobitvijo slušnega aparata je vedno potrebno izpeljati postopek, ki je opisan tule >
Avdiometer, ki omogoča natančne meritve sluha po zračni in kostni poti, ter tudi govorni test.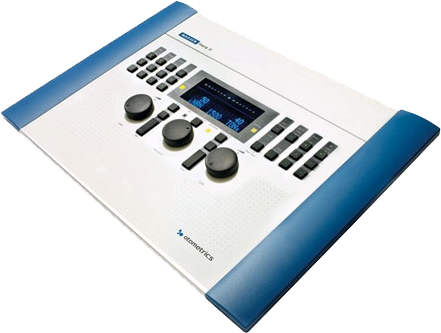 Takšne avdiometre uporabljamo v vseh AUDIO BM slušnih centrih.
Za uveljavljanje določenih pravic, na primer do priznanja telesne okvare ali pridobitve tehničnih pripomočkov, je potrebno vedeti kolikšna je okvara sluha izražena v %.
Pražni tonski avdiogram je podlaga za izračun izgube sluha po formuli Fowler-Sabine.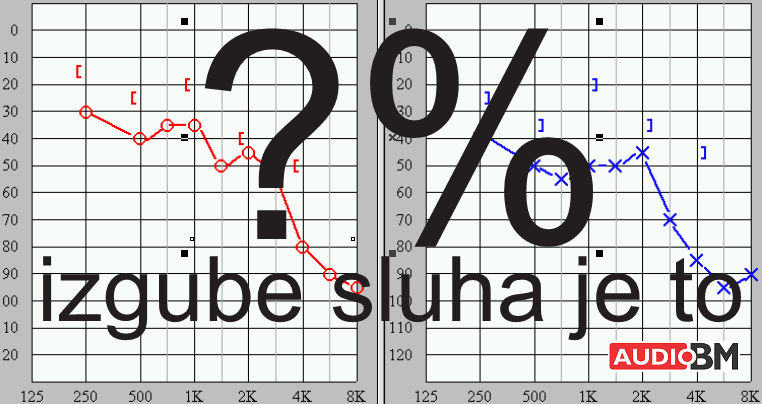 Ste naglušni? Veste kolikšna je vaša naglušnost po Fowlerju?
Pri nas v AUDIO BM vam informativni izračun izgube sluha po Fowlerju v % izračunamo brezplačno.
Prav tako vam bomo svetovali, kako ravnati, da boste svoje pravice lahko uveljavili.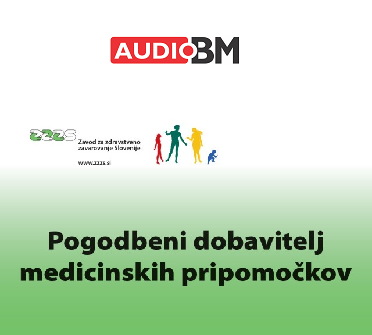 AUDIO BM hearing centers are contract retailers for Health Insurance Institute of Slovenia ZZZS.
We accept hearing aid referrals from all ENT clinics.  Choosing a hearing aid supplier is your FREE choice. Before buying a hearing aid, get to know and try out one of ours.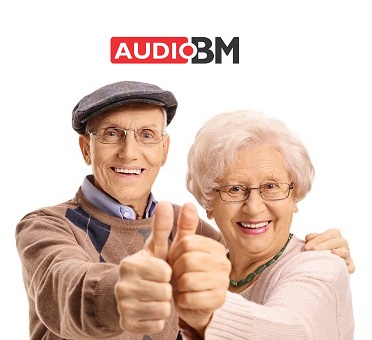 Many customers confirm our commitment to providing help so you can again hear and live better.
At AUDIO BM we work professionally and with our heart. We provide excellent service and the latest hearing aid models to meet all your needs and suit all generations - even at no extra cost.
WE REPRESENT WELL KNOWN AND RELIABLE TRADEMARKS